Monmouth has been twinned with Carbonne  in the Midi-Pyrenees region of South West France since 1975.
Monmouth Twinning members enjoy French culture and the opportunity to learn more about how our friends across the channel live.
We are keen to encourage pupils and students to expand their experience of France and French Language, see Schools.
Many of us speak no French and that's not a barrier to enjoying the opportunities that Town Twinning brings!
Monmouth residents have been 'exchanging' with our Twin Town, Carbonne, since 1975.
Exchanges have been for individuals, families, clubs, organisations, choirs, bands and schools.
Monmouth and Carbonne residents have taken part in joint concerts, sporting competitions, visits and meetings.
Many lifelong friendships have been forged. 
Carbonne is now even easier to get to – a direct EasyJet flight from Bristol to Toulouse airport or Eurostar and TGV if you prefer trains.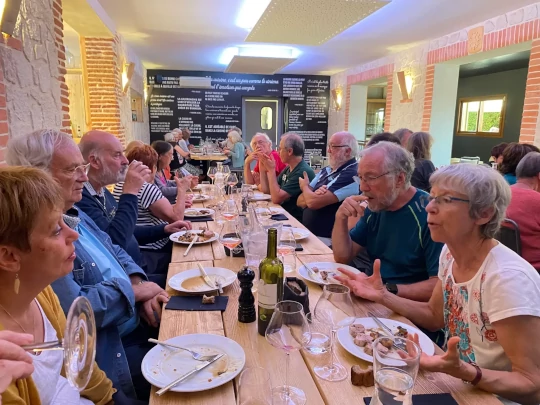 Our most recent exchange visits
September 2022 was our first visit since the Covid restrictions ended – it was great to get away and experience the warm autumn sun, remind ourselves of the hospitality of our hosts and experience the excellent French cuisine and wine.
September 2019 saw our Carbonne friends visit Monmouth. We all enjoyed a group supper in Bridges Centre and a visit to HMS Great Britain in Bristol.
May 2024: we are busily planning the next visit of our Carbonne friends.
In the meantime we have our Summer barbeque on 12 July at Ty Price and a Coffee Morning on 11 November in The Priory.
Plans are underway for a wine-tasting and a petanque competition…….